Things to consider before buying a recreational vehicle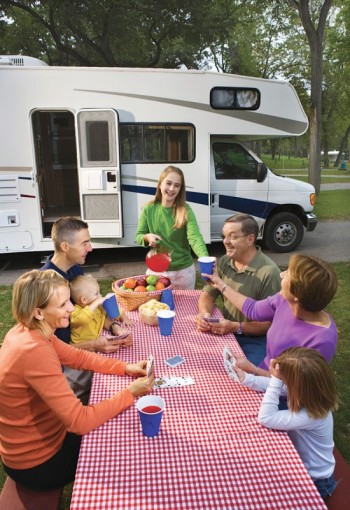 Buyers should do their homework before purchasing an RV.
Opportunity for adventure abounds for recreational vehicle owners. With a motor home parked in the driveway, a road trip or instant family getaway is only a few steps away.

While RVs can be rented, serious road-trippers often prefer purchasing one so that it can be customized with the features desired and always be at the ready. RVs vary in price depending on the vehicle, and there are a few thing prospective RV owners should know before they begin shopping.

First and foremost, drivers who have not previous owned an RV or even stepped inside of one you may have an inaccurate perception of these vehicles. Today's recreational vehicles are much more than meets the eye, and it pays to attend an RV show to become acquainted with the various types of motor homes. This way you will be familiar with the jargon and have a reasonable idea of what you want before going to a dealership.

There are various classes of RVs, but  the largest ones tend to be the most expensive. Some RVs have an engine and are driven like a bus, while other models hitch to the back of a truck or van. If you will be towing an RV, you must be certain the car or truck doing the towing is equipped to tow a vehicle the weight and size of your particular RV.

Some RVs have fixed dimensions, while others expand, either manually or electronically, pushing out walls to provide even more interior room when the RV is parked. RVs have different floor plans, and there are many different models to fit a buyer's needs.

Many RVs are equipped with no frills furnishings, but there are models that feature top-of-the-line appliances and fixtures. It's possible to get granite countertops and cherry cabinets in an RV, but such accessories will increase the cost of the vehicle. Upholstered sofas and dining room banquettes may be upgraded to leather. Some RVs have an additional kitchenette built into the exterior of the unit for easy access when barbecuing or cooking at a campsite.

How you plan to use the RV should also be considered prior to purchasing one. Will you be spending time cooking meals and sleeping inside, or will it mainly be used as a storage unit for your camping gear? Do you plan on taking extended vacations and desire all the comforts of home? Defining these goals will help you find the right RV for you.

Another thing to consider is renting an RV for a day or two to get a feel for driving it and what it is like to spend a night inside. You may be able to determine if you need more or less of a mobile home when you ultimately decide to purchase.

Make sure everything works before you drive the RV off of the lot. Repairs can be expensive, and you do not want to be stuck with a lemon when you're on the road. Find out if there are any roadside assistance packages that can be negotiated to offer you peace of mind with your first RV.

The decision of whether or not to purchase an RV requires ample forethought. Comparing a number of different models and designs and weighing personal needs can give buyers a good idea of which RV is right for them.