Insider tips for winter travel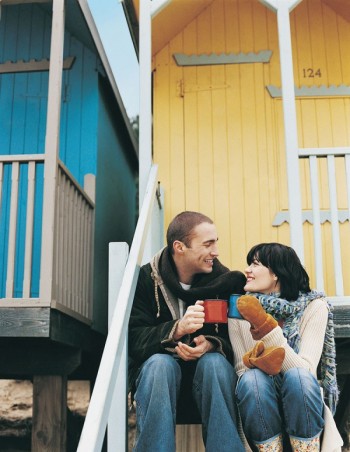 Smaller crowds and an ever-changing landscape can make winter vacations ideal.
Winter has much to offer the eager traveler, including smaller crowds and entirely new scenery to admire. Cooler weather can make sightseeing more enjoyable, as it is often easier to warm up than cool down. Although the summer season is popular for travel, the winter months also are a busy time to get away, and being prepared can make traveling go that much smoother. The following are some traveling tips for those who can't wait to get out of the house this winter.
* Expect some setbacks.You never know what kind of weather you may encounter during your trip, therefore be ready to make changes at a moment's notice. Always check flight status or other travel information before leaving home. Weather may delay flights or cause cancellations, so have an alternative plan available if the weather foils
the trip.
* Avoid nonrefundable tickets. If weather causes a cancellation, nonrefundable or nonexchangeable tickets can cost you money. Try to get the best price possible on tickets while still affording yourself the opportunity to amend travel plans if need be.
* Book early. Ski resorts are quite popular in the winter, and reservations tend to fill up fast. If you hope to ski or snowboard, make a reservation as early as possible and then shop around for flights or aternative travel methods. If you prefer smaller crowds, plan a trip to a destination that caters more to warm weather activities. Visiting a seaside town or national park can still be beautiful and fulfilling in the winter.
* Get a physical. Visit the doctor and be sure you are up-to-date with all immunizations. Now might be the time to get a flu shot, as traveling in close proximity to others during the wintertime increases your risk of contracting an airborne virus. Getting vaccinated can prevent illness from ruining your trip.
* Pack accordingly. With fickle weather you may have to pack a number of different wardrobe options to remain comfortable. Check the weather and the extended forecast for your destination. Include a number of clothing pieces that can be layered so you will remain cozy outdoors. Bring along comfortable walking shoes, but also pack a pair of winter boots in case the weather turns wet or snowy.
* Purchase travel insurance. Many people prefer to safeguard their travel investments with the purchase of travel insurance. While there are a number of companies to contact, insurance also may be offered through your credit card company provided you use that card to finance the trip. Should you need to cancel a trip for weather or illness, travel insurance can protect your financial outlay and you may get a refund for the full price of the trip. Vacation insurance plans also may include enhanced emergency medical coverage, trip interruption coverage due to professional obligations or involuntary job loss, or 24-hour travel assistance services.
* Pack something to protect yourskin. Cold weather doesn't mean you don't need to protect your skin from the elements. The cold wind and winter sun are still powerful enough to cause damage. Wear ample sunscreen when traveling outdoors, and use a moisturizer to combat cold, dry air.
Although many people flock to warmer climates in the winter, embracing the snow and chilly air and visiting a cool-weather destination can make for an ideal trip.