Adopting pets not all you can do for shelters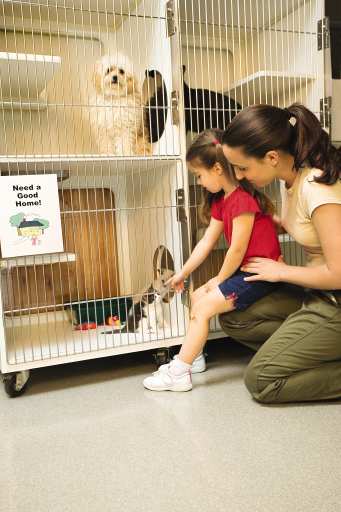 Scores of animals across the country temporarily call shelters home. In some areas, the number of animals surrendered or brought into shelters for other reasons has reached epidemic proportions, leaving many cash-strapped shelters with inadequate supplies and space to care for so many animals.
The Humane Society of the United States estimates that animal shelters care for six to eight million dogs and cats every year in the United States, and three to four million are euthanized. According to a Canadian Federation of Humane Societies survey, 143,218 dogs and cats combined were admitted to area shelters in 2010. Of those pets, 47 percent were adopted, 36 percent were euthanized and 11 percent were returned to their owners. The remaining animals either died in the shelter or were transferred to other organizations.
Although adopting animals from shelters remains one of the single best ways to help various organizations, for many animal lovers adoption is not feasible. Fortunately, there are other ways individuals can help shelters.
Advertising
Shelters need to get the word out about their available animals. Many operate Web sites or partner with organizations that publish photos and information about available animals. PetFinder.org, for example, brings together more than 13,000 adoption groups into one site. Sharing information about local shelters among your group of friends or through social media is a way to bring information about animals and shelters in need to others. It may take mere seconds to share the plight of a shelter animal or forward a photo of animals currently living in shelters. Sharing such information can improve the animals' chances of finding homes.
Make charitable donations
Shelters have limited resources and are often more than happy to take both financial donations and donations of supplies. The next time you are purchasing a bag of food for your pet, consider purchasing an extra one and donating it to a nearby organization.
Many shelters also accept towels, linens and other items that can be used to keep animals clean and comfortable. If you are cleaning out old sheets and towels from your home, donate them to a shelter rather than tossing them into the trash.
Volunteer
Though many shelters pay their staff members, many still need and rely on volunteers. Perhaps a shelter could use assistance cleaning out cages or walking dogs? Professionals with certain skills, such as accountants or office managers, may volunteer their services to keep the shelter running smoothly.  Individuals who excel at event planning may be needed to organize fundraising events that put animals on display and encourage adoption.
Spay and neuter
Responsible pet owners should neuter their pets so the animals cannot reproduce. Only reputable breeders should keep their animals intact. Preventing unwanted animal pregnancies can reduce the number of animals that find their way into shelters.
Don't make pet decisions lightly
Some people get a pet on a whim without fully thinking through the level of care required for animals that may live 10 or more years. Pets require a long-term commitment, so anyone who is not ready to take on a new member of the family should avoid doing so. Otherwise, a pet may be surrendered to a shelter and not get the life it deserved.
Pet adoption is one way to mitigate the growing problem of overcrowded shelters. But even animal lovers who cannot adopt can still lend a helping hand.