Halloween continues to evolve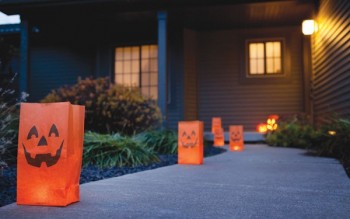 On Halloween, many paths lead to a bevy of candy and treats for kids.
Donning costumes and going door-to-door requesting candy are Halloween traditions. Millions of adults and children alike participate in Halloween celebrations across the world.
Visitors to the United States, Canada, Ireland, New Zealand, Australia, and the Bahamas can likely find revelers donning their favorite costumes and collecting a trove of candy. Residents of Sweden, Japan and certain Latin American countries, where Halloween is more commonly known as Noche de las Brujas (Night of the Witches), sometimes celebrate Halloween as well.
The term "Halloween" was first used during the 16th century and is a Scottish variant of the phrase "All Hallows' Evening." While Halloween's name may have Christian origins, historians say that Halloween has both pagan and Celtic roots. Halloween is typically linked to the Celtic festival of "Samhain," which is Old Irish for "summer's end." This time between seasons was viewed as a time when the supernatural, such as fairies and souls of the dead, could travel across worlds and visit their former homes for Samhain. In fact, souls of passed family and friends were welcomed to attend feasts, and place settings were left for them. While friendly spirits passed through, harmful spirits also became active during this time of the year. Historians believe costumes were worn to ward off these harmful spirits.
Halloween also was influenced by All Souls' Day and Christian influences that were commemorating the memories of the recently departed. The custom of baking and sharing soul cakes with neighbors has been linked to early trick-or-treating.
Elements of the autumn harvest season are key components of Halloween, when scarecrows, corn husks and pumpkins can be found in abundance. Horror decorations have evolved through the years, as movies and classic literary works continue to inspire new decorations.
Even Halloween candy has become more elaborate. Where it was once customary to offer small treats to children and some would be happy with a few coins with which to purchase their own treats, nowadays children may receive full-sized chocolate bars, juice boxes, elaborately decorated candied apples or even toys.
Retailers understand that Halloween is big business. Consumers can often find Halloween items on store shelves as early as August. However, smart shoppers realize it is best to stock up on harvest-theme items right after Halloween and save them for next year.
Halloween continues to be a fun day of the year. Its origins are embedded in history, but the customs and elaborate tendencies of the day continue to evolve even now.