Start a recession-resistant business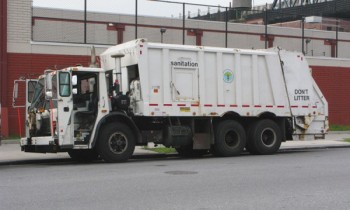 The sanitation industry tends to thrive regardless of the status of the economy.
The latest statistics from the Small Business Administration indicate that two-thirds of new businesses survive two years, while about 45 percent survive four years. Such odds inspire curiosity as to how entrepreneurs have the gumption to open new businesses.
As challenging as it can be to turn an idea into a successful business, opening a new business in an industry with a track record for stability is one way to reduce the risk of a new business venture. Although there is no such thing as a guarantee in the business world, certain industries seem to garner a steady stream of business no matter strong or weak the overall economy may be. While not all of these businesses are necessarily glamorous and some may focus on less popular aspects of daily life, each is a part of industries that tend to thrive regardless of the economy.
* Funeral services: Death and taxes are two inevitabilities in life. As such, funeral homes will always be in demand.
* Accountants: Like death, taxes are one of life's guarantees. To the layperson, some of the intricacies of tax law can be quite confusing. As such, accountants will always be in demand. Pushing numbers and sorting spreadsheets may not be exciting, but accounting is a stable and often lucrative way to pay the bills.
* Veterinary services: Much like doctors are in demand, so are those professionals who cater to our feathered and furry companions. A career in veterinary sciences can be profitable as well.
* Pharmaceuticals: The pharmaceuticals industry is big business. The National Pharmacists Association says that many pharmacists routinely fill more than 20 prescriptions per hour, which is indicative of just how booming the pharmaceutical industry has become. According to the National Institutes of Health, per capita drug expenditures have increased at an average annual rate of 10.8 percent in the United States and Canada since 1996.
* Liquor stores: Liquor stores are relatively recession-proof. When times are booming, people celebrate and throw parties, complete with alcoholic beverages. When times are bad, some turn to alcohol to numb the situation. As a result, liquor stores tend to thrive whether the economy is booming or has gone bust.
* Pawnbrokers: When operated efficiently, pawn shops can be very lucrative businesses, especially during tough financial times when people need extra money. Pawn shops enable individuals to take out loans (at high interest rates) by offering possessions as collateral. Should the individual not be able to pay back the loan, the pawn shop can then sell the merchandise for profit. It is important to check the regulations in your area before opening up a pawn shop. Many towns require a pawn broker license, business license and criminal background check.
* Waste disposal: Working with garbage may be unpleasant, but there will always be a need to remove it from homes and businesses. Waste service companies do the dirty work and will always be in demand.
Many types of businesses offer greater stability during times of economic uncertainty. Investing in these types of businesses may improve the chances your next business venture will buck the trend and become successful for years to come.